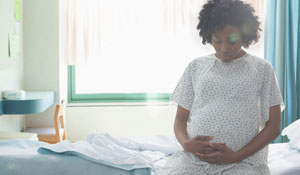 We've been helping families grow one or more healthy babies at a time for over 40 years.
At The Woman's Hospital of Texas, we provide high-quality, compassionate pregnancy care. Our truly comprehensive program combines research, diagnosis, treatment, education, and individual and family support programs - all under one roof.
Antepartum Care
Occasionally, situations develop during pregnancy that put the health of the mother or baby at-risk, and special care becomes necessary.
We can help with issues common to multiple births, as well as high-risk pregnancy conditions, such as pre-term labor, hypertension and diabetes, incompetent or weakened cervix, and more. Our Antepartum Unit (APU) is designed to care for high-risk patients before delivery. With 48-beds, the APU provides mothers on bed rest a second home complete with the additional support they and their vulnerable babies require.
High Risk Pregnancies
The Woman's Hospital of Texas offers the most comprehensive care in the Houston region for high-risk pregnancies, including APU Unit, Maternal Assessment Center, Perinatal Diabetes Center, 24/7 emergency maternal-fetal transport care, and a Level IV NICU.
Our Perinatal Navigation Program was developed to meet the special needs of families that have been identified as high-risk either because of a mom issue or fetal issue to coordinate specialist appointments and provide support for high risk conditions. You and your baby will be cared for by our comprehensive multidisciplinary team committed to achieving the best possible outcomes.
Multiples Care
The Woman's Hospital of Texas provides comprehensive, supportive care to mothers who are expecting twins, triplets, or more. Our expert team of medical providers specializes in care for women with multiple gestation pregnancies and offers maternal-fetal medicine consultations. Our goal is to ensure that your pregnancy is a positive, exciting experience and most of all safe.