Providing advanced care and support for women with high-risk pregnancies.
Each woman's journey to having a baby is as unique as her journey in life. While being pregnant can be an exciting time, not all pregnancies are easy. When you're classified as a high-risk pregnancy due to a maternal or fetal diagnosis, you want to be confident you're in the care of experts prepared to handle any circumstances affecting you or your unborn child.
Woman's Maternal Fetal Care Center was established to provide advanced care and enhanced support to patients with pregnancies identified as high-risk. Led by perinatal navigators, the Center offers the most comprehensive care model in the Houston region for high-risk pregnancy diagnoses, including advanced maternal age, multiples, and pre-existing health conditions such as hypertension and diabetes.
We bring together a specialized team of obstetricians, gynecologists, maternal-fetal medicine specialists, neonatologists and pediatric specialists to provide mom and baby with the highest quality comprehensive care. As a designated Level IV maternal facility, this team is equipped to treat the most complex cases.
Our high-risk pregnancy specialists diagnose and treat various risk factors and some of the most complex conditions, including:
Abdominal mass
Abdominal wall defects (gastroschisis, omphalocele)
Abnormal placentation
Advanced maternal age
Amniotic bands
Brain malformations
Cardiac arrhythmias and other heart conditions
Cervical insufficiency
Chronic hypertension
Cleft lip and palate
Congenital diaphragmatic hernia (CDH)
Congenital heart abnormalities
Congenital pulmonary malformations
Diabetes
Duodenal atresia
Esophageal atresia
Fetal growth restriction
Genetic syndromes
Hydrocephalus
Hypertension
Lymphatic mass
Micrognathia
Multiple gestation
Preterm labor
Previous complication during pregnancy
Previous perinatal demise
Surrogate pregnancy
Teratomas
Woman's Maternal Fetal Care Center also offers specialized care for those on fertility journeys, including fertility treatments like IVF, and surrogacy and adoption support for both the gestational carrier and intended parent(s).
Our hospital houses a 48-bed antepartum unit (APU) for mothers who may require a hospital stay for increased monitoring on bed rest or limited activities to help their baby grow safely, a Perinatal Diabetes Center and a specially-designed Maternal Assessment Center that provides moms-to-be with a unique area focused on their testing or urgent care needs.
If your baby is born prematurely and requires special attention, The Woman's Hospital of Texas has a 146-bed Level IV neonatal intensive care unit (NICU), the highest level of care available for premature and critically-ill newborns. We also have an emergency maternal-fetal transport care team that is available 24 hours a day, seven days a week to transport women experiencing maternal medical emergencies.
Perinatal navigation
Navigating a high-risk pregnancy can feel overwhelming. The perinatal navigators at Woman's Maternal Fetal Care Center have the sole focus of providing you with extra care to support your unique pregnancy and delivery experience.
Utilizing a collaborative approach to care, our perinatal navigators partner with you, your family, your obstetrician and your team of specialists to provide the safest possible outcome for you and your baby. They ensure you receive the necessary support and specialized education for your unique pregnancy journey.
Your perinatal navigator is your personal guide through your pregnancy. They will help develop a personalized care plan with a team of medical experts, coordinate appointments with specialists, facilitate communication between you and your doctors, advocate for your and your baby's wellness, and offer you and your family the resources and emotional support you need.
No matter what condition you may be facing, we are here to support you every step of the way. We are fully committed to a high-quality, family-centered pregnancy and delivery for you and your baby.
Meet our perinatal navigators
---
Kristi Hardy, MSN, RN
With more 25 years of experience in obstetrical nursing, Kristi has a passion for empowering patients with the knowledge and support necessary for both mother and baby. She advocates for her patients and utilizes a collaborative approach to assisting families on their high-risk pregnancy journey to achieve the optimal outcome.
---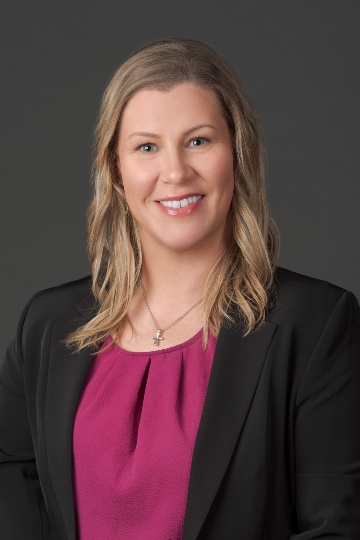 Sarah Carroll, BSN, RN
With more than five years of experience in obstetrical nursing, Sarah is an advocate for women through all stages of family building. She has a passion for providing her patients with support and encouragement. Recognizing that each patient is unique, Sarah provides compassionate, individualized support to women, regardless of where they are in their fertility journey.
---
Holly Baker, BSN, RN
Holly has nearly 10 years of nursing experience with a focus in high-risk perinatal and obstetrical care. She has a passion for educating and empowering patients to make informed decisions for themselves and their babies. Holly recognizes the importance of providing compassionate, individualized care. She also supports and encourages each woman in their unique pregnancy journey and offers reassurance every step of the way.
---
Sarah Loewenthal, MSN, APRN, FNP-BC, C-EFM
With more than seven years of experience in obstetrical and gynecological nursing, Sarah strives to provide exceptional care to all of her patients. She recognizes the unique nature of each patient's journey through pregnancy and delivery and provides compassionate, patient-centered care. She supports her patients by educating and empowering them so they can be equal partners in their care and the care of their babies.
---