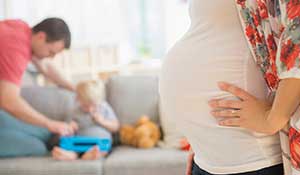 We offer the most qualified obstetrical experts in the region, and deliver more than 800 babies a month.
That's more than any other hospital in Houston.
Whether you're experiencing a normal pregnancy or a high-risk pregnancy, The Woman's Hospital of Texas has the technology and medical expertise to provide you with outstanding care. We have board-certified OB/GYNs, neonatologists, and anesthesiologists on site 24-hours a day. Throughout entire shifts, nurses tend to the needs of mother and baby without the distraction of other patients or responsibilities. Our nurses are there to ensure the well-being of you and your baby, offering compassion, support, and expertise.
Committed to providing a "mother-baby centered" environment, we area proud Texas Ten Step Facility for breastfeeding. We offer extensive childbirth and parenting classes and support groups for pre and post-delivery, as well as physical therapy services during pregnancy and postpartum.
Our obstetrical and family-centered care services include:
Preconception
Planning for pregnancy is different with every woman's health. For some women, physically preparing for pregnancy may take a few months, but for others, it may take longer and they may consider infertility treatment. Regardless if it's the first, second or third baby, necessary steps should be taken to ensure you are ready for a healthy pregnancy.
Maternity Care
Our maternity care is compassionate and high-quality; a truly comprehensive program that combines research, diagnosis, treatment, education, and individual and family support programs - all under one roof.
Labor and Delivery
Our goal is to customize your care to meet your needs and desires and make your baby's delivery as natural, happy, and memorable as possible. We put your safety and wellbeing first, while supporting your preference for all natural, epidural, or vaginal delivery, even if you've had a previous cesarean section.
Postpartum Care
After you have safely brought your baby into the world, you will transition from the labor and delivery area to our Postpartum Unit (PPU) where you will receive personal, compassionate care while you recover.