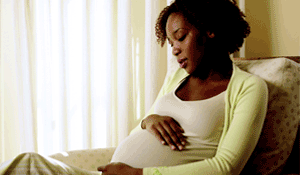 We are committed to the health and well being of all babies and moms, especially those facing challenges.
Dedicated to providing comprehensive high risk pregnancy care, we have been awarded the High Risk Obstetrics Certification from The Joint Commission, one of only a handful of hospitals nationwide to earn the coveted recognition. We currently deliver more babies, including those following difficult or complicated pregnancies, than any other facility in the Houston area.
While some mothers are diagnosed with high-risk pregnancies early in their pregnancy, others may develop complications that require attention later in their pregnancy. High-risk pregnancies are those complicated by disease or chronic health issues, advanced maternal age, obesity, birth defects, and other conditions including:
Multiple babies
Preterm labor
Pregnancy-induced hypertension

(pre-eclampsia)
Chronic

hypertension

(high-blood pressure)
Premature rupture of membranes
Incompetent or weakened cervix
Bleeding disorders, including

placenta previa

and

placental abruption
Asthma
Diabetes
Post-surgical complications
High Risk Pregnancy Care
Our high-risk perinatal and antepartum programs provide constant monitoring of mother and baby, allowing the baby time to grow as much as possible in the stable environment of the womb. Our established practices help us identify patients at risk, offer early education and provide aggressive treatment to try and delay premature delivery.
Our team at The Woman's Hospital of Texas has been caring for high risk mothers and their babies for many years. You and your baby will be cared for by our comprehensive multidisciplinary medical teams, and our highly skilled and experienced specialists who are committed to achieving the best possible outcome for you and your baby.
Mothers facing the possibility that their pregnancy is likely to develop complications consult with our maternal-fetal medicine specialists.These OBGYN physicians are high risk pregnancy experts who care for women with existing health conditions, multiple gestation, complications from previous pregnancies, and fetal health problems. In addition, all high risk deliveries are attended by a Board Certified Neonatologist and Neonatal Nurse Practitioners who are on-site 24/7.
This program was developed to meet the special needs of families that have been identified as high-risk either because of a mom issue or fetal issue to coordinate specialist appointments and provide support for high risk conditions. Patients are cared for by our comprehensive multidisciplinary team committed to achieving the best possible outcome for them and their babies.
Providing advanced services to women who need special care during pregnancy, this specially-designed center provides moms-to-be with a unique area focused on their testing or urgent care needs. Our nursing specialists work with each patient and her personal physician to manage specific conditions, such as the onset of labor, obstetrical and gynecologic conditions, and surgical emergencies. If necessary, the Maternal Assessment Center will provide the patient with direct admission to the hospital's Labor & Delivery unit.
Services for High Risk Pregnancies