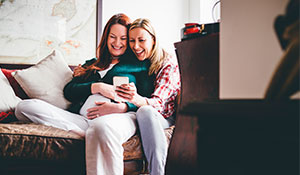 Each person's journey in life is unique. So is their path to bring in new life. As a hospital established 45 years ago in response to a need for specialized care for women and newborns, The Woman's Hospital of Texas continues to be the pioneer for reproductive health and individualized care. The fertility program at Woman's Maternal Fetal Care Center combines enhanced support services from compassionate perinatal navigators with an expert team of reproductive endocrinologists, and board-certified maternal and neonatal specialists to ensure each patient's unique needs are met throughout their path to expand their family.
At Woman's Maternal Fetal Care Center, we deliver truly personalized care to every patient and every family we serve. We provide comprehensive fertility services in a warm, friendly environment where you can learn more about your options and pursue treatment with a supportive and experienced team of reproductive endocrinologists and infertility specialists who are dedicated to helping you achieve your desired outcome.
Women's infertility
According to the Centers for Disease Control and Prevention (CDC), approximately 12% of women in the U.S. ages 15-44 have difficulty getting pregnant or carrying a pregnancy to term. Most women who are having difficulty getting pregnant after trying for 6-12 months, have a diagnosable condition that is making it difficult to conceive without treatment.
Female infertility may be a result of difficulties with ovulation, damage to fallopian tubes or uterus, or complications with the cervix. Age can also contribute to infertility because a woman's ability to conceive becomes more difficult with age. Many other conditions and risk factors can contribute to infertility, including tubal factors, endometriosis, hormonal disorders, polycystic ovary syndrome (PCOS), uterine abnormalities, reoccurring pregnancy loss, gynecologic cancers and more.
The perinatal navigators at Woman's Maternal Fetal Care Center work closely with the expert reproductive endocrinologists, commonly known as "REIs," on The Woman's Hospital of Texas' medical staff. REIs may help those with fertility challenges become pregnant through procedures such as intrauterine insemination (IUI), in vitro fertilization (IVF), artificial insemination (AI), intracytoplasmic sperm injection (ICSI), fertility medications and genetic testing. These specialists also provide a number of other important reproductive services, including egg freezing and fertility preservation, egg and sperm donation, pre-implantation genetic diagnosis, genetic counseling, and embryo testing and storage. After a patient's ninth week of pregnancy, her REI may refer her to Woman's Maternal Fetal Care Center for enhanced support and coordination of care from a perinatal navigator for the remainder of her pregnancy.
Adoption and surrogacy
For patients expanding their families through surrogacy or adoption, Woman's Maternal Fetal Care Center provides unparalleled support and special accommodations for both the carrier and intended parent(s). From the beginning of this journey through the moment your baby goes home with you from the hospital, a perinatal navigator will be by your side to offer education, guidance and comfort.
Education and support
We are dedicated to guiding our patients through their fertility journey, and as part of our commitment, we host monthly fertility support groups and bi-monthly seminars about a topic related to infertility causes and treatment options, adoption and surrogacy. These educational events are free to the public.
Begin your journey with us
For 45 years, we've made Woman-first care our priority. The Woman's Hospital of Texas continues to raise the bar in quality care and has become a nationally renowned institute with Level IV maternal and neonatal designations by the Texas Department of State Health Services. We are here to ensure each patient's fertility experience is as safe, seamless and as successful as possible. Our patients are our priority, and supporting their physical and emotional needs is our primary goal.
If you're ready to begin the journey of expanding your family, we invite you to schedule a consultation with one of our highly skilled and experienced reproductive endocrinologists and infertility specialists or speak with a Woman's Maternal Fetal Care Center perinatal navigator by calling (713) 791-7406.