Elizabeth Ortega, Chief Executive Officer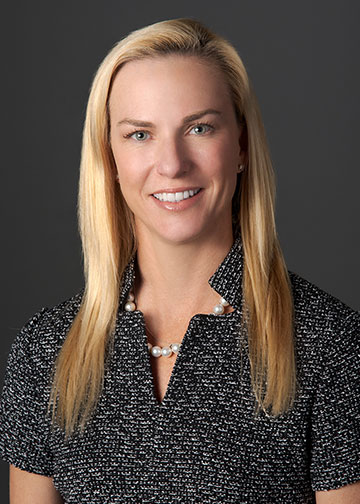 In July 2019, Elizabeth Ortega became the Chief Executive Officer at The Woman's Hospital of Texas, the #1 hospital for women and infants in the state and an HCA Houston Healthcare affiliate.
A healthcare executive with over 14 years of progressive experience in the healthcare industry, Ortega previously served as Chief Operating Officer at Methodist Hospital and Methodist Children's Hospital in San Antonio. Before her appointment to Methodist in 2013, she had been the Chief Operating Officer and Ethics and Compliance Officer at Del Sol Medical Center in El Paso. She has also worked for Sunrise Medical Center and Sunrise Children's Hospital in Las Vegas as well as Medical City Dallas Hospital.
Ortega has a Master's of Business Administration (MBA) from the Cox School of Business at Southern Methodist University and a bachelor's degree in communications from the University of Texas at Austin.
She is involved in a variety of community activities. She is a member of St. Mark's Episcopal Church and Kappa Kappa Gamma alumnae association. She has served as a mentor for students at Trinity University and is a Fellow with the American College of Healthcare Executives.
In addition to her passion for the health of women and children, Ortega enjoys running and spending time with her two daughters.
Caroline Burris, Chief Operating Officer
Caroline Burris joined The Woman's Hospital of Texas as the Chief Operating Officer in May 2019. Previously, Burris served as the Associate Administrator at TriStar Summit Medical Center in Nashville, TN. Prior to that, she served as the Program Development Coordinator in both Oncology and Cardiology for Sarah Cannon, a Business Analyst on the Meaningful Use attestation team, and a Performance Improvement SWAT team member.
Burris received her Bachelors in Business Administration from Belmont University in Nashville, TN and her Master's in Business Administration from Northeastern University in Boston, MA. Additionally, Caroline graduated from HCA Healthcare's Executive Development Program in 2018.
As a teenager, Caroline served as a volunteer at Vanderbilt University's Children's Hospital and immediately knew healthcare was the path for her. She has a particular passion for Women's and Children's healthcare that was enhanced with her personal NICU experience with her son.
Caroline is married to Stephen and lives in Houston with their 2 children and dogs.
Blair Callaway, Chief Financial Officer
Blair Callaway has been a member of the HCA Healthcare family of hospitals since 1996, and became the Chief Financial Officer of The Woman's Hospital of Texas in June 2020.
Previously having served as the Chief Financial Officer at Texas Orthopedic Hospital, HCA Houston Healthcare Pearland and HCA Houston Healthcare Mainland, Callaway brings 24 years of financial, operational, and business management experience in the healthcare field to The Woman's Hospital of Texas.
Callaway earned a Bachelor of Business Administration degree and a Master's of Healthcare Administration and Business Administration from the University of Houston – Clear Lake. She is a lifetime member of the Houston Livestock Show and Rodeo and serves as assistant captain of the Facility Services Committee. When it is not Rodeo season, Callaway enjoys spending time on the water with her husband, three children and dogs.
Ann Russell, RN, Chief Nursing Officer
Ann Russell, RN, was appointed Chief Nursing Officer (CNO) at The Woman's Hospital of Texas in January 2020. Russell's born calling to the nursing profession has guided her through her more than 25-year career in healthcare. She has made invaluable contributions in each of her numerous nursing and hospital operation positions, and prior to her appointment as CNO, she served as the Vice President of Nursing Operations for HCA Healthcare Gulf Coast Division. Russell's passion for nursing, dedication to women's health, commitment to nursing culture, and unique healthcare experience make her instrumental to The Woman's Hospital of Texas.
Russell graduated Summa Cum Laude from Texas Tech University with a Bachelor of Science in Nursing and received her Master of Science in Nursing. Having published articles and holding many teaching roles throughout her career, Russell truly enjoys helping nurses grow professionally and gladly serves as a mentor and educator.
Russell and her husband of over 30 years have two daughters, and are overjoyed by the recent arrival of their granddaughter. Russell's passion for helping others goes beyond the hospital walls; She serves on numerous committees, including American Nursing Association (ANA), and actively participates in Texas Nursing Association (TNA).
Cindy Celnik, MD, Chief Medical Officer
Dr. Cindy Celnik, a board-certified obstetrician/gynecologist, was appointed Chief Medical Officer of The Woman's Hospital of Texas in November 2019. Prior to this role, she practiced at Kaiser Permanente in Colorado for 14 years. Dr. Celnik held various leadership positions, including area specialty chief with oversight of OB/GYN services across the south Denver metro area, where she served more than 150,000 community members. She is a highly regarded clinician and was designated as a higher-level tiered surgeon, performing complex surgeries and providing education and oversight for her peers. Since 2012, Dr. Celnik practiced exclusively at Sky Ridge Medical Center, an HCA Healthcare hospital, where she was a champion and active participant of OB/GYN services.
Dr. Celnik earned her Bachelor of Arts with honors in Psychology from Lafayette College in Pennsylvania. She attended college on a full athletic scholarship, and attributes her dedication to standing up to challenges and never letting failure stop her, to her experiences playing competitive volleyball. She earned her medical degree from the University of New Mexico School of Medicine, where she ranked as "outstanding" in her clinical rotations. She completed her MBA in December 2019 from the University of Texas at Tyler Soules College of Business.