amanda b.
she is why we are here.
---
After kids, Amanda's job title went from lawyer to stay-at-home mom. The two-time marathon runner knew the transition might not be easy, but in her gut she knew this was the best decision for her and her family. Amanda will be having her third child at Woman's soon, another decision she feels good about. Brilliant.
Meet Amanda
Congratulations on baby number 3! What do your two young boys think about having a baby sister?
Thank you! I don't know that my youngest, who just turned 2, really had a clue what we were sharing when my husband and I first told the boys they would have a baby sister, but his understanding seemed to quickly grow with my expanding stomach.
He now often asks to see my stomach to "see baby sister" and he will pat my tummy and give sister kisses. It's very sweet. Our oldest son, who is now 4, was quite upset at first that the baby was not a boy, but he seems to be over his initial disappointment and just has a lot of questions... like how will the baby come out? (!) I've tried to skirt the issue and just say something vague like "the doctor will take her out."
How are you feeling during this pregnancy? We understand you'll be delivering at The Woman's Hospital of Texas.
I'm feeling well in the second trimester but dealt with significantly more morning sickness and nausea during the first trimester than I did with my two boys (my first clue that this baby may be a girl!).
I am looking forward to delivering at Woman's with this baby. I was at a different hospital with my boys, but my doctor recently moved her practice over to The Woman's Hospital. After consulting with my sister-in-law and some close friends who delivered at Woman's and hearing about their positive experiences, I felt confident in my decision to follow my doctor over to this hospital and trust that both baby girl and I will be in good hands.
Every woman has a health story. How has yours shaped you into the woman you are today?
I've been fortunate to have had good health most of my life. Having a nurse for a mother has also been hugely beneficial. I've learned so much from her example, not only in how she has devoted her life to caring for her family and others through her profession, but also the importance of trusting your instincts and paying attention to your body when something seems off.
She's taught and empowered me to be my own health advocate and to not be afraid to ask questions and seek solutions for any health concerns. While I am thoroughly grateful for modern medicine, I also believe strongly in the body's ability to heal itself under normal conditions when given a healthy diet and regular exercise. This has been empowering in pregnancy and childbirth and given me great peace of mind. While I do still seek exceptional medical care, there are certain things affecting my health that are within my control.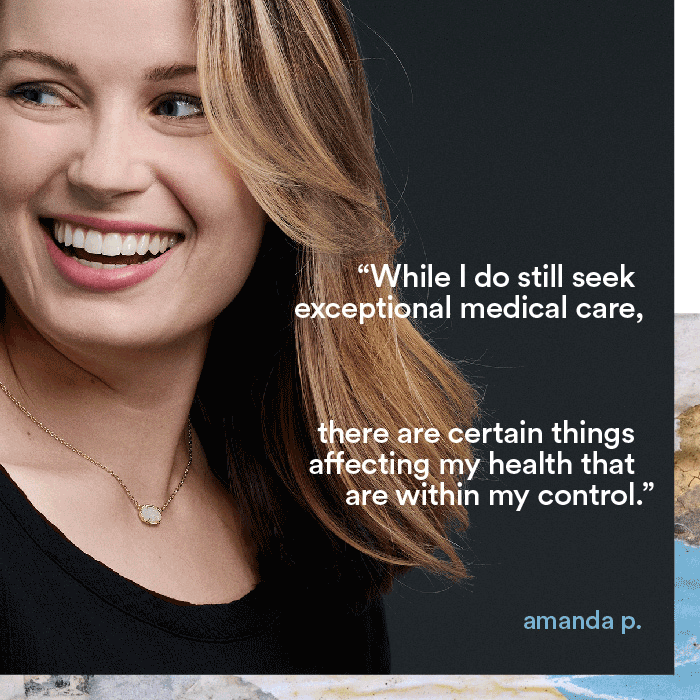 You're a lawyer but now a stay-at-home mom. What's been the biggest transition for you in that respect?
Transitioning was quite a drastic change! While my husband and I always anticipated this would be the best route for our family, the change in my day-to-day routine (and not having a formal start and end to the workday) and redefining what a "successful" day looked like was difficult.
I had been working for a nonprofit, representing immigrant victims of domestic violence, and was truly passionate about the work, but also could not imagine not being with my baby each day. I had to seriously re-examine how and from where I was deriving my "worth" and go with my gut. This was the best decision for us personally, taking into consideration the unique needs and goals of our family. I'm also hopeful that, once my kids are a bit older, I'll be able to transition back into practicing law in some capacity.
What are some other challenges you've faced as a woman?
A common challenge I've faced as a woman has been fighting this perceived need to be responsible for the emotions of others with merely my presence and the expression on my face. There have been numerous times when I'm walking down the street, or simply contemplating something in an office or library, that a male co-worker or stranger even, has told me to "smile" if I happen to be going about my day with (heaven forbid!) a straight face.
Another challenge, particularly as a mom of young kids, has been wanting to be there to support friends and family in times of need and working within the constraints of meeting the many needs of the tinies already dependent upon me. Whether it's sitting with a family member for chemo or delivering food to a new mom, I've been limited in how I can help, and that has been difficult for me personally. I'm grateful for the friends and family (especially my mom and mother-in-law) who have helped care for my boys so I can be there for someone else. It truly takes a village!
What's the best part about being a woman, in your mind?
I believe so strongly that women can do anything! And what is so amazing to watch is how a woman will take the gifts and abilities she's been given and will cultivate those gifts to not only pursue her success personally but also use that drive and success to provide for her family and her community.
What's one of your greatest accomplishments?
Graduating law school was a long-held goal of mine and very gratifying to accomplish. I'm also grateful and proud to have delivered my first son completely unmedicated (though I happily got an epidural with my second and plan to with this baby as well).
How important is it for you to put yourself first at times?
I think this is a big challenge for women and moms. I constantly struggle with guilt when faced with balancing the need to care for myself and the needs of my family. One of the most encouraging phrases I've heard related to this struggle is "you can't pour anything out of an empty cup." If I don't take care of myself, I can't be equipped to care for my family either.
Who is Amanda five years from now, and what's she up to?
When my children are all in school, I hope I can continue to be their primary caregiver while also managing a part time law practice from home. I look forward to many more adventures and travel with our family as the kids get older and the opportunity to get away with just my husband at times too.