flo n.
she is why we are here.
---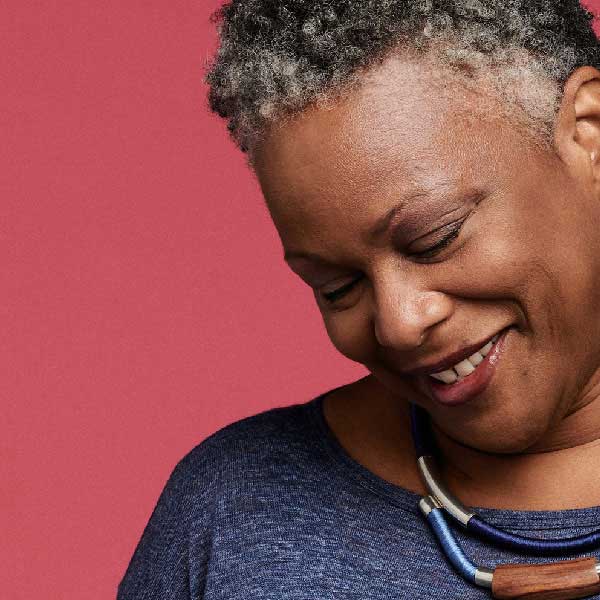 Flo isn't who she used to be — she's better.
The first female in her family to go to college, Flo worked in the TV industry and raised two kids before being diagnosed with rheumatoid arthritis at 40 — while at the same time experiencing early menopause. But with strength and determination, she's rolled with the changes and is living life to the fullest.
Meet Flo
You're a grandmother! What do your grandkids call you?
Granna. It's an homage to my mom, Anna.
What's the best part about being a grandmother for you?
The best part about being a grandmother is providing unconditional love, security, and understanding to my lineage.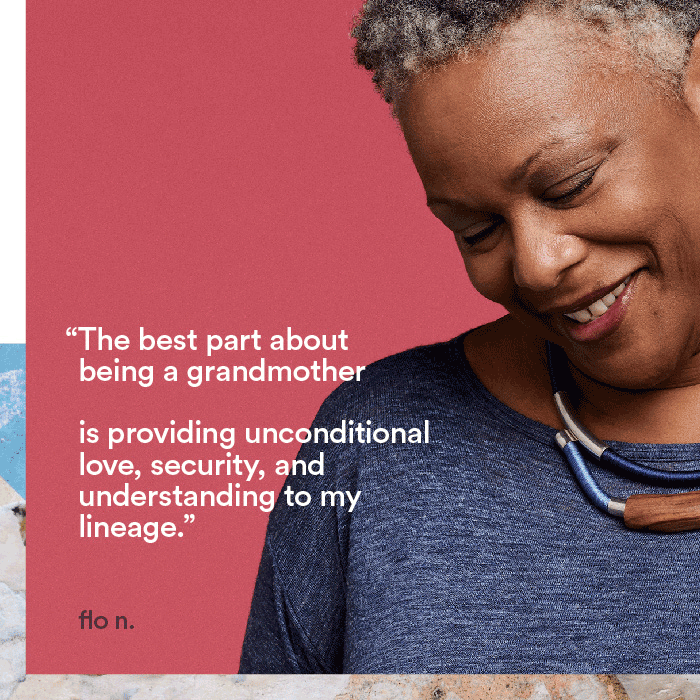 Interviews and media aren't new to you as a former producer and jack-of-all-trades in the TV world. Tell us about your life before retirement.
My life was very active, outgoing, and entertaining. Before I retired, I was a customer service representative for Continental Airlines in addition to several home-based business ventures. I've always worked outside the home in addition to managing the household and two children.
I also always incorporated some type of exercise regimen. As the wife of a high school teacher and coach for 36 years, I've learned to juggle many tasks. Supporting my children's activities and attending most of my husband's games made me a professional family cheerleader.
You were diagnosed with rheumatoid arthritis and pre-menopause at 40. How did that change things for you?
My life came to an abrupt halt physically, mentally, and emotionally. I was extremely stiff, in constant pain, depressed, and angry. Because I felt alone, guilty, and misunderstood, I became an unfriendly recluse.
How did you get through the process of having a hysterectomy and how are you feeling today?
Prayer and the support and understanding of my family helped me feel much wiser about my health and more optimistic about life.
Is taking care of yourself and managing your own health still a priority?
Yes! If I don't do it, no one else can.
What are some other challenges you've faced as a woman?
Balancing emotions in a man's world is a challenge. You have to be everything to everyone else. Don't be a whiner. Look beautiful, but not overweight. Be smart, but not intellectual.
What's the best part about being a woman, in your mind?
Women are the vessel of mankind. We wear all types of hats, masks, and shoes. Perhaps James Brown said it best: "This is a man's world. Means nothing without a woman or a girl."
What's your idea of the perfect day?
A day without stiffness or pain. One with peace of mind and the freedom to enjoy it however you want.
What's one of your greatest accomplishments?
Being married to the same person for so long.
What word best describes you?
Adaptable.
How important is it for you to put yourself first at times?
Extremely! I've got to live with me and be the best me that God designed me to be. If I'm not good for me, I'm not good for anyone.
Who is Flo five years from now, and what's she up to?
A 63-years-young fun-loving woman positively impacting lives.
What's makes your life easier?
My faith and family. Letting go and not worrying about things I can't control.
What inspires you?
The ability to look back at my life's adversities and knowing I persevered.
What super power do you wish you had?
Being a woman is a superpower in itself!
What does it mean to be a woman?
To be mysterious, multi-faceted, and maternal.
What would it mean if the world were "Woman first"?
There would be more emphasis on understanding and enhancing the welfare and insight of individuals to help create a climate of compassion.