nina p.
she is why we are here.
---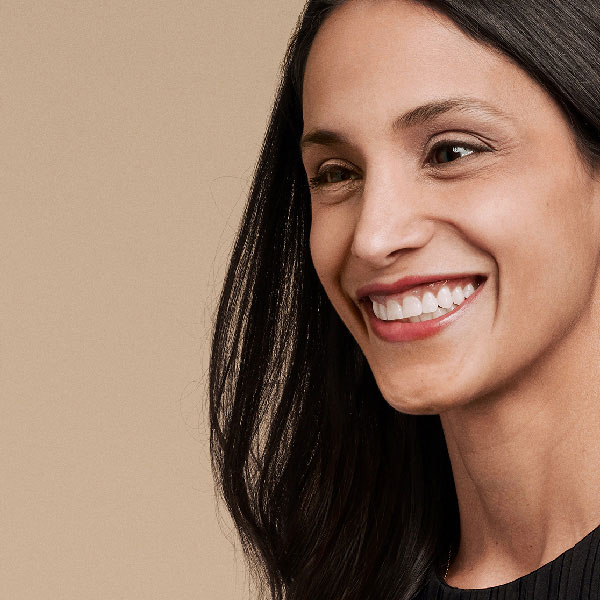 Nina balances her career and motherhood in enviable style. The Houston native has worked for some of the biggest fashion brands in the world, and travel has come with the territory. Taking care of herself isn't always easy, but Nina makes health a priority, so she can be at her best for herself and her family.
Meet Nina
So, you work in fashion. Sounds glamorous. Can you tell us about your job?
Glam! Well, sometimes. I really do love what I do. I've worked for the Italian luxury brand Valentino for the past 7 years. I'm one of four Regional Managers for the brand's U.S. operations. I cover the Southwest area of the country. I make sure the products look good and sell well. I've helped with corporate training. I spend a lot of time on my feet, talking to customers and sales associates. People skills is definitely a top requirement — and so are comfortable shoes! Luckily, I have plenty of both.
How did you get your start?
So, I moved to New York after graduating from Yale with a political science degree, actually. But my first job out of school was with Chanel as an assistant for their shoe collection — making like no money but loving it. I lived in a shoebox, started at the bottom, earned my stripes. Then landed jobs at Michael Kors and Max Mara.
I eventually moved back to Houston, where I'm originally from, and got the job at Valentino. Since having kids and my own family, it was the right move for us. My parents live in Houston too, and my brother and his family are in Austin, so it's great we get together pretty easily when our schedules allow.
With two young boys at home, must be hard to "juggle it all," as they say...
My passion is juggling it all and trying to do it well. It can be hard, as all busy moms know. I have a really supportive husband and a really good sitter — those two things certainly make all the difference, especially since I have to travel a lot for the job.
I travel as much as three times a month, but I try not to be gone more than a couple of nights. I do go to Milan a couple of times a year, as well as trips to New York. I guess we're all just used to it, it's part of my life. When I know I'm leaving Sunday morning at the crack of dawn for a flight, I try not to stress about it Saturday night and instead just enjoy the time I'm home... making dinner, getting the kids' school bags ready for the next day, the normal mom stuff.
What do your boys think of your job and the traveling?
You know, I don't think they think much of it really. I mean, it's just their normal — you know? I'm always asked — how do you travel for work? It's so funny to me. This is a job, just like a husband has a job. Dad and the sitter are there when I'm gone, and when I'm home, mom does her thing. I make it a point to make all the important stuff, like the boys' sports practices and games and school functions. I help them with their school projects, help as a room parent. I try.
What's your health story?
The 40s are here, I'm seeing it, feeling it. Things are a little different now with my body, but they're good. I try to take care of myself. In 2009, I had a back injury, two herniated discs in my back. I had epidural steroid shots for them and I do yoga, religiously.
How were your pregnancies?
Both of my pregnancies were pretty normal but I did experience an umbilical hernia and varicose veins after each pregnancy, as well as developed around that time diastasis recti, a gap in the abdominal muscles.
What does it mean to be a woman?
For me, being a woman is wearing many hats. We have the hardest job in the world by raising kids, if we choose to have them. If we work, we sometimes have to work twice as hard to be taken seriously.
It means being a good daughter to your own parents — to show your kids this is an important thing to do for their parents down the road. It means supporting your husband even though you may not understand what he's going through. It's teaching your kids to be good, kind and smart hardworking people but not overbearing parents who micromanage everything!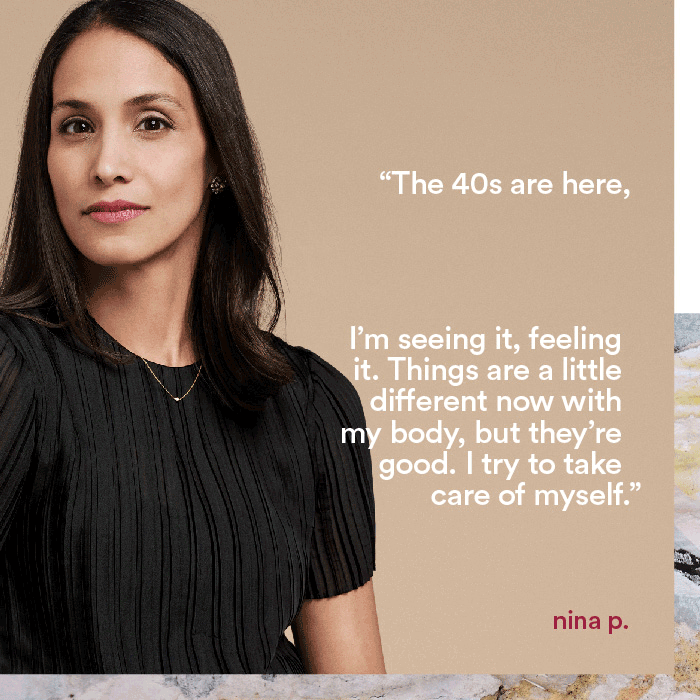 What's your idea of the perfect day?
Wine tasting in a foreign country.
What's one of your greatest accomplishments?
Yale University.
What word best describes you?
Personable.
How important is it for you to put yourself first at times?
Honestly, it's not really hard for me to try to make myself a priority. I know it's important. Doing so makes me be able to do what I'm doing, from the travel to taking care of the family.
Who is Nina five years from now, and what's she up to?
Hmmm... Still in the fashion business. Hopefully having traveled more with my family, taking my kids to new places. We've been fortunate to take them to India, Australia, London, Mexico. Lots of cool experiences already. Oh! Running an animal shelter. I'd love to do that.
What inspires you?
When I meet an awesome woman who's really done something amazing. I love learning something cool I never knew about a fellow mom or a friend. Maybe some goal she's achieved, or something unexpected about her job, or something she's working on. It's inspiring.