juniper j.
she is why we are here.
---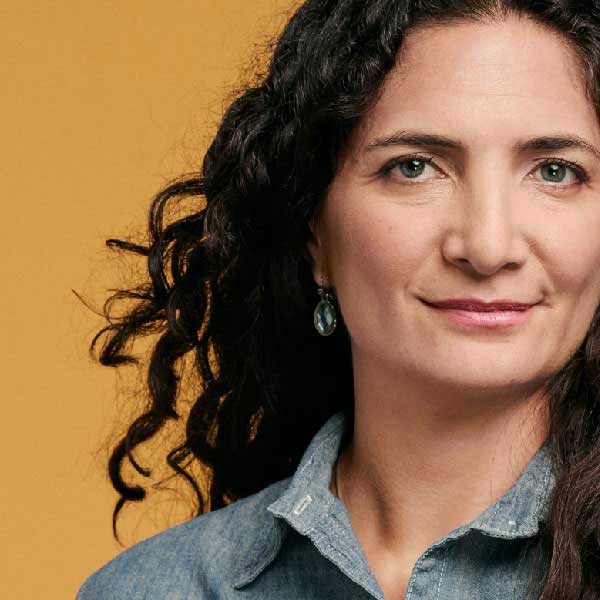 Juniper is as extraordinary as her name.
When she isn't perfecting technology for space flight, this Houstonian can be found flying from the rafters as an aerial artist performing jaw-dropping acrobatics. But even the best performers need the best women's healthcare to stay on top of their game.
Meet Juniper
You're an aerospace engineer. It sounds amazing. What are some of the things you do?
I've been an aerospace engineer for 16 years. I build and test spacesuits and vehicles that take astronauts to space.
When you're not working for NASA, you work for yourself as a performance artist. Wow. Tell us more!
I've always loved dancing and performing. I was on stage doing ballet when I was 6 years old, on dance team throughout high school, performed in plays and musicals throughout college, and I was a samba dancer in a dinner theater in Osaka, Japan. Eventually, I picked up the props, hula hoop, fire tools, and aerials, stilts around 2003. Now I perform on the weekends and evenings.
You sound very busy. What do you like to do in your "free" time?
I travel. I love snowboarding. Even though I live in Houston now, I still go every year for at least a few days.
Can you tell us a bit about your healthcare journey? Understand you've dealt with the challenges of endometriosis and ovarian cysts.
The first time was in 2010. I had some discomfort and I found it after a doctor gave me an ultrasound. Doctors thought it might be cancerous, so I was scared for a long time. It took a month to see the oncologist and all that time I thought I had cancer. I was also closing on a house at the time. My surgery was scheduled five days after I closed on the house. Friends helped me move in because I was in a lot of pain.
I got into an argument with my boyfriend at the time and I felt a pain so sharp that I doubled over. The cyst had ruptured, which is what my doctors feared. They thought bad cells could get out and infect everything else in my body. I had a second mass at the same time that happened to be a hernia. The surgery cleaned everything out. I had one 4-inch long incision, three incisions in my belly, and one long incision in my groin. I wasn't expecting that when I woke up.
For days I was getting help with sitting on the toilet. Luckily, I had my mom there to care for me. I was out of work for what turned out to be five or six weeks. I tried to go back after four weeks, but the pain was still too much to handle. I don't do well with pain medication because it makes me sick. So, I had to stop taking that early on, which slows the healing down.
This past June, I was rollerblading around the streets of Houston and started to have a sharp pain in my abdomen, like a cramp. I didn't think much of it. I thought I was just getting old. One day I was at work and the pain was so bad, I saw stars. I was trying to supervise technicians and read drawings. I couldn't even think anymore, but I was trying to get through it and wait for it to go away, or at least wait for the next shift, so I could go to the doctor. I drove myself to the emergency room. They admitted me overnight, then the weekend came, and they couldn't send a specialist to see me, so they decided to just go in. I ruptured another cyst and I had endometriosis again.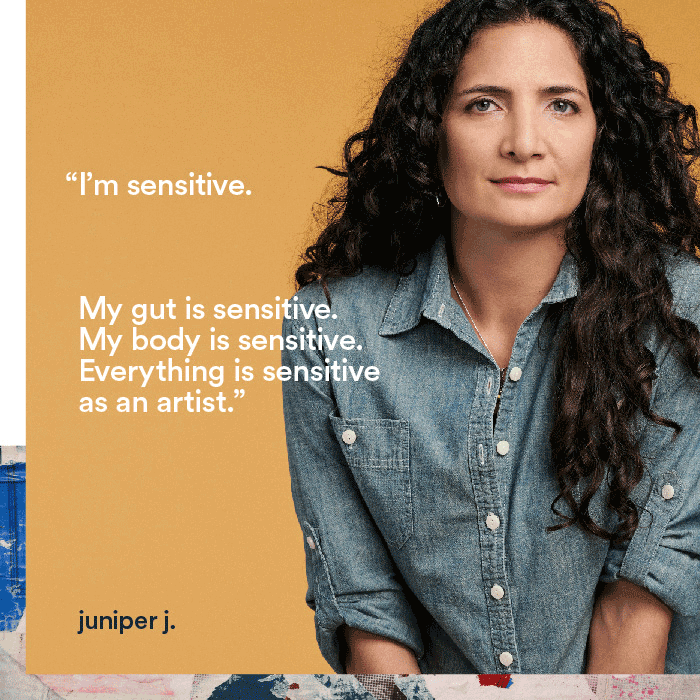 How did these things affect you mentally?
I try to reduce stress. Meditation, writing, and journaling help me blow off steam. I also eat super healthy and clean and take lots of supplements. I'm sensitive. My gut is sensitive. My body is sensitive. Everything is sensitive as an artist. My chiropractor would really love me to stop doing it all. I go in with pain and they have to fix me. But I don't want to stop because I enjoy it.
What would you say to a woman who has gone through the same things you have?
It gets better. Surround yourself with people who have been through it too. Not everyone understands what abdominal surgery is like and how hard it is to recover from. Facebook helps because people chime in and give advice. People who have been through it step up and ask what you need. They offer to pick up groceries for you. It's important to ask for help. People will give it.
But don't be surprised by who does and who doesn't. Some people can't fathom what you're going through. Don't be affected by that. Rest is important. It's vital. We don't take enough time to heal and recover. We force ourselves to get back to it right away. Take it easy. Foster self-love.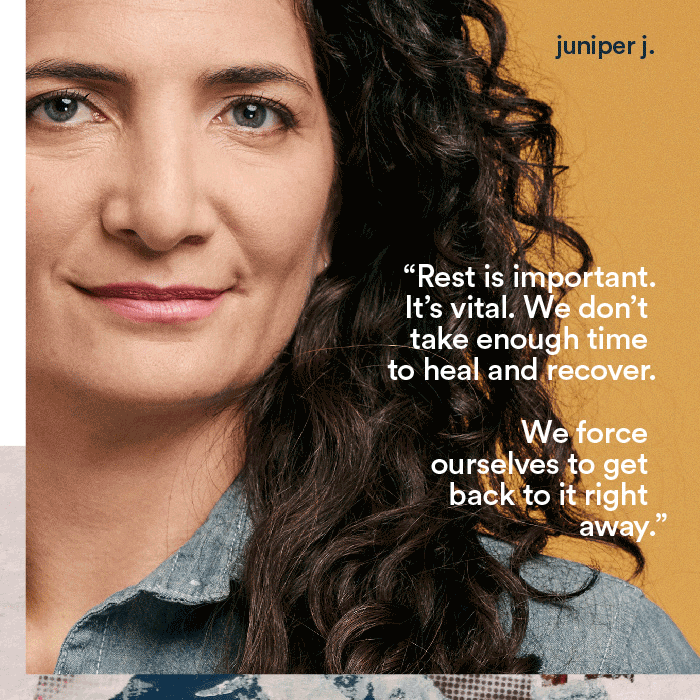 What are some other challenges you've faced as a woman?
As a woman engineer, I'm in a male-dominated environment. Working in a male-dominated environment isn't always fully appreciated. It sucks having to plan your outfits, what you put in your purse, and your bathroom visits on some days. Men don't have that every month. Men can't use PMS as an excuse — plain and simple.
What's your idea of the perfect day?
A combination of work and play. Visit a construction site, oversee something, give tips and supervise, then put on a costume and go perform.
What do you say to the young girl who wants to be an astronaut when she grows up?
Do well in school. Find something you love and be great at it.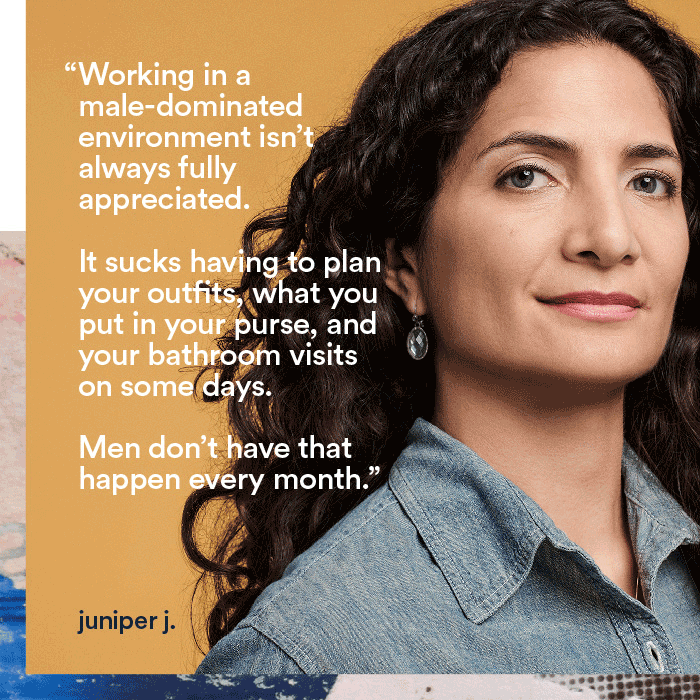 How important is it for you to put yourself first at times?
I haven't done that enough, so I'm starting to do that more. I don't want to put other people first; I want to put myself first. I'm going to go meditate inside pyramids.
Who is Juniper five years from now, and what's she up to?
I would love to be a regular on a sci-fi television series. I'd love to be like X-23 in her grownup years. I'd be living in Los Angeles in a house as great as the one I have here and doing some films in between the network series stuff. Still performing gigs and events. And I could wake up on my day off and drive to the mountains to snowboard. Maybe with a partner. But that becomes less and less important.