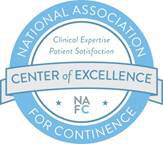 The Woman's Hospital of Texas is one of the few hospitals in the country to offer specialty care in urogynecology. Urogynecology, a subspecialty within obstetrics and gynecology, treats women with pelvic floor disorders, such as recurrent bladder infections, urinary or fecal incontinence, and prolapse (bulging) of the vagina, bladder, and/or the uterus and rectum.
According to the American Urogynecologic Society, one-in-three women will experience a pelvic floor disorder in her life. Nearly all pelvic floor problems can be corrected through behavioral physical therapy, surgery, or medication.
Many patients benefit from minimally invasive surgical procedures. Minimally invasive surgery means less blood loss, faster recovery time, less pain medication, and less scarring. Some procedures can even be done on an outpatient basis.
Our hospital is one of only six in the nation to offer a "Center of Excellence": Continence Care In Women. This center offers the latest minimally invasive surgical and non-surgical treatments for women with:
Bladder fistula
Pelvic organ prolapse
Pelvic or sexual pain
Bladder or bowel control issues
We also offer non-surgical options for incontinence, bowel problems, and sexual and pelvic pain through our physical therapy department.
To learn more about urogynecology at The Woman's Hospital of Texas, call 713-799-6193. For physician referral, please call (281) GET-HELP or (281) 438-4357.