 The Woman's Hospital of Texas helped Jessica and Christian Sommer welcome their first son Christian Daniel Sommer, Jr. into the world at 12:12 pm on 12/12/2012. Christian, weighing 8 lbs., 2 oz., was delivered by Dr. Nicole Tran via Cesarean section. Christian has two older sisters who were also born at Woman's. Dad, Christian Sr., said, "It's a lucky day, a neat day, a day we will never forget." The Sommers are from Rosharon, Texas.
Christian is baby number 9,592 for The Woman's Hospital of Texas in 2012. The hospital expects to break their own record this year, delivering 10,000 babies in one year. The Woman's Hospital of Texas delivers more babies than any other hospital in Houston.
Follow us in Facebook.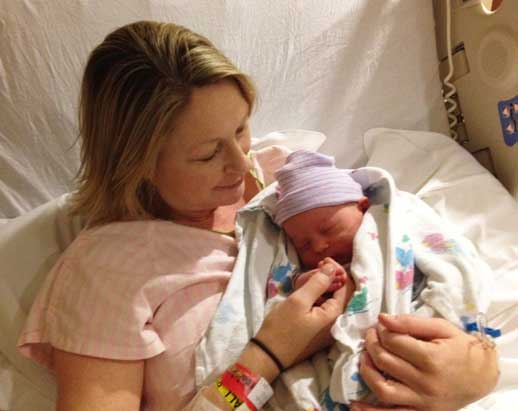 About the Woman's Hospital of Texas
The Woman's Hospital of Texas is an acute care hospital located near the Texas Medical Center. The hospital was established in 1976 by a group of physicians who recognized the need for a facility focused solely on the care of women and infants. In keeping with this vision, Woman's offers a full range of women's services, including breakthrough developments in minimally invasive surgery such as Robotic Surgery, and urogynecology. The hospital has an antepartum unit, 36 labor and delivery rooms, a medical surgical unit and 124-bed Levels II and III Neonatal Intensive Care nurseries. Since its inception, Woman's has welcomed over 200,000 babies into the world and delivers more babies in Houston than any other hospital. Our experienced physicians specialize in high-risk deliveries, from handling preemies weighing less than 1,500 grams to offering a comprehensive Multiples Clinic for women having twins, triplets, or more. In addition, the Woman's Hospital of Texas was twice named a top performer in quality measures by the Joint Commission, and has been designated as a Center of Excellence for Continence Care in Women by the National Association for Continence. Visit our website at www.womanshospital.com.
About HCA Gulf Coast Division
HCA Gulf Coast Division is a comprehensive network of hospitals, outpatient surgery centers, emergency centers, cancer centers, and diagnostic imaging facilities. It offers a complete continuum of specialized health programs and services that meet the needs of Greater Houston and South Texas residents and businesses. HCA affiliated facilities in the Gulf Coast Division include 10 Hospitals, 8 ambulatory surgery centers, 6 diagnostic imaging facilities, 7 off-campus emergency centers, a hospital-based express care center, and a regional transfer center that provides one phone call access and support for patient transfers into and out of the HCA Gulf Coast Division Affiliated Hospitals, as well as access to ground and air transportation within a 150 mile radius. For more information, visit our website at www.HCAGulfCoast.com.
News Related Content